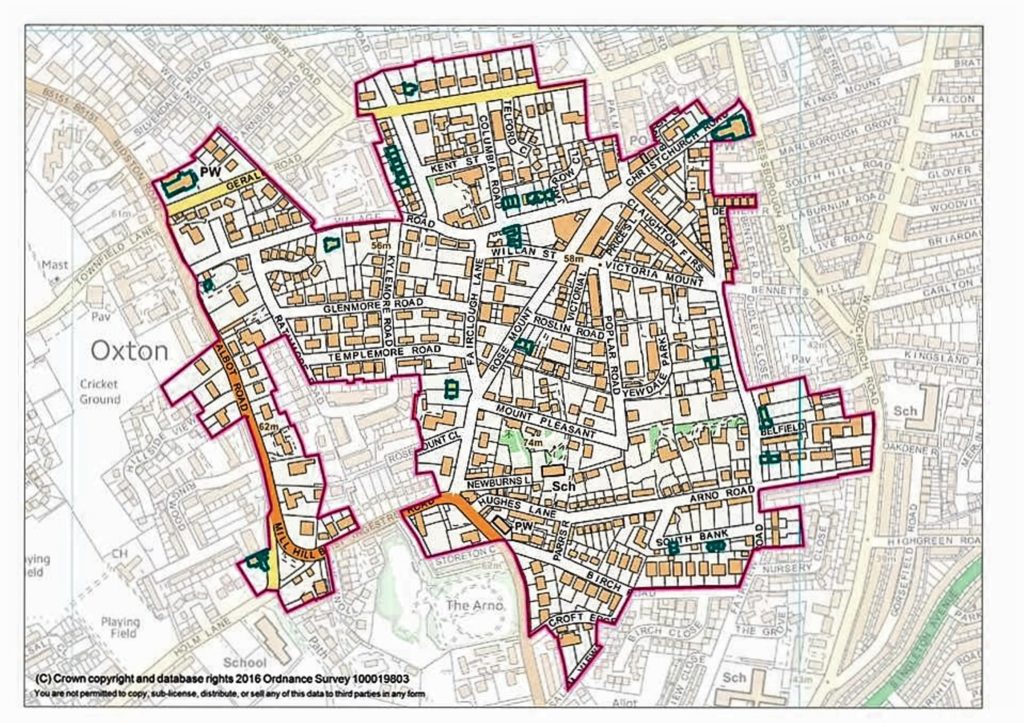 In 1979, Wirral Council established Oxton Village as a Conservation Area, in order to preserve and enhance the village's distinctive character. The map shows the existing Conservation Area, as extended in 2012.
Soon afterwards the Oxton Society, a registered charity, was founded to promote the Conservation Area. The Society works in partnership with the Wirral Council, local businesses and the community to pursue this objective.
We collaborate with the Council over planning applications, village development and management of trees. We also work with local businesses (who support our events) to help sustain commercial activity in the village.
Over the years the Society has expanded its activities. Since 2000, we have raised over £240,000 for local charities and over £40,000 for village improvements, including:
Design Awards for improvements that enhance the quality of the area
Christmas Lights in partnership with local businesses
Hanging flower baskets
Village Notice Board
Tree Planting Fund
The Society also organises local events – the best known of these is the Secret Gardens  day when residents open their gardens to raise money for local charities. We also organise an annual Xmas Lights display.
Our newsletter – free to members, which is published four times per year, is about Society business and local news. It also includes a local history supplement. Back numbers of the newsletter can be viewed here.
Our Strategy can be seen here.
Membership is available to anyone. Members are kept informed about the ways in which the Society is protecting the Conservation Area and promoting its sensitive development. Members are kept up to date with planning issues and events which affect the area with a quarterly newsletter, members' emails, Facebook and Twitter. For details of subscriptions and how to apply, click here.
The Society is managed by an Executive Committee which meets bi-monthly – our minutes can be viewed here.  We are a registered charity and have an Annual General Meeting in September when officers and committee members are elected.  Minutes of the last AGM (as yet unapproved) can be viewed here. Our constitution can be viewed here. We produce an  Annual Report and Accounts and further details of how the Society is managed can be viewed here.
You can contact us by clicking here.