Annual General Meeting
The Society holds an Annual General Meeting, usually in September. The 2020 AGM has been held over due to CoVid 19. We hope to hold a "Members' Meeting" sometime in Spring 2021 when the accounts and Annual Report can be ratified. More details will be available nearer the time.  The last AGM to be held was on 25 September 2019 and The Agenda, Annual Report, Accounts for 2018/9 and Minutes of the previous AGM are available to view.
The Minutes of the 2019 AGM are also available, subject to confirmation at the Members' Meeting still to be arranged.
A regular item at the AGM is the presentation of "the oustanding contributions to Oxton" awards. There were 2 awards in Sept 2019.
Jane Horton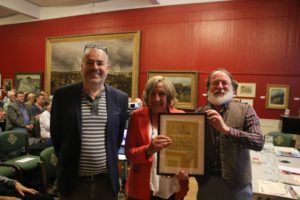 The citation , presented by Griff Round, our Treasurer reads as follows:
I have known Jane for over 40 years. I was at school and friends with her son Karl and knew her other children as well. Around 4 years ago, knowing that I was a member and also knew something about money, Jane asked or rather demanded that I become Treasurer of the Oxton Society. Consequently I was her apprentice for 12 months whilst she went through the various aspects of the role.
What I discovered that behind the scenes Jane had turned the Treasury into a well-oiled machine. All of the financial records, receipts, invoices and cheque stubs were carefully filed away. All of the bank statements, the accounts, the processes and paperwork. Jane was always there to answer any of my queries as she passed her "baby" across to me.
Now that I have been performing the role for several years I can see what else Jane did. There is a lot to the Treasurer's role. There are dealings with the bank, the accountants, the committee and a lot of the individual members of the society. There are also the two large (fairly) huge annual events of the Secret Gardens and the Christmas Lights, that involve a lot of work for the Treasurer and their team behind the scenes before, during and after the events.
As well as Jane performing all this for many years she was also a valuable member of the Committee. I think that the greatest legacy that Jane has left has been the sound financial footing that she achieved for the Society. With decisions such increasing membership fees and income share from the Secret Gardens, that were not necessarily universally popular, she pushed home the argument that strong finances are a strong enabler and allow an organisation to achieve so much more than simply being a talking shop.
As most of you know Jane has always been busy outside of the Oxton Society. Many of us enjoy the fruits of her labour at the Williamson, where she has also been a positive force to get things done. We will miss her contributions to the Committee but, Jane, we look forward to worthwhile input from you as a member. It is great pleasure to present  Jane an Award for Outstanding Services to the Oxton Society.
Kate Wyness
The citation by Rhiannon Evans, our Chair, reads as follows:
Kate and Paul opened Greens of Oxton less than four years ago yet it is impossible to ignore the impact that the shop has made in the Village.  And it is  particularly impossible to ignore Kate.  And the impact she has made.
And it is Kate's impact on the Village and her partnership with the Society that we are celebrating this evening.  Kate saw an opportunity to build on the commitment and involvement in Secret Gardens and Xmas lights already shown by other businesses and took it up a notch. Several notches.   There are three things I want to pick up to illustrate how she has upped the game for all of us.
Kate had a vision for much classier lights ( white lights) than The Society had had hitherto. And because we had slightly cold feet, she started a fund raising initiative from her shop. Within a few weeks before Xmas she  had raised  £600 from residents and businesses which the Society then matched and  new white lights were duly purchased.  And she will fundraise  again this year to ensure that the trees have their lights too.
Whilst this was going on, she was already imagining a different and revitalised village centre for Secret Gardens in May 2019. And she was talking to Jay and Lesley the co-ordinators. Her vision was to invite the artisan makers who had been demonstrating their cheeses, chocolates, breads, etc in her shop on a Saturday morning to purchase a pitch in the village and create a Makers Market which would fill the pedestrianised street.  She went round the other shops and explained  what she had in mind and how it would benefit everyone.  And then,  to create a  new buzz, she invited young musicians to play throughout the day. And it was all very successful; it added a new dimension, new visitors  and some extra income.
Kate had supported what the Oxton Society was trying to do from the beginning and she picked up that we sometimes struggled to get new members. So she started keeping a list of people who had expressed interest in the  Society and passed these on. Then she had another idea : she offered the  committee a space and a couple of tables in the shop on a Saturday morning.  Dave, Patrick, Don and others took it in turn to  sit and talk to people about the Oxton Society and its work   and invited them to join.  And they did.  and so we have new members.  And we will carry on with this initiative.
Kate exemplifies the best qualities of the Village, the spirit of Oxton you could say: friendly and welcoming, proud of working in the Village ( exemplified by the commendation for the facelift  on the shop that Kate and Paul received last year), a first rate communicator and networker.  A ideas person and a doer. She will keep us on our toes  as Kate has a rare combination  of being full of creative ideas and being solutions orientated. Indeed in her short time in Oxton she has made an outstanding contribution to the Village and we very much look forward to continuing to work with her. It is a great pleasure to ask Councillor Allan Brame to make the award to Kate for her Outstanding Contribution to Oxton.