The extent of Oxton Conservation Area is shown on the map below, with listed buildings shown in green.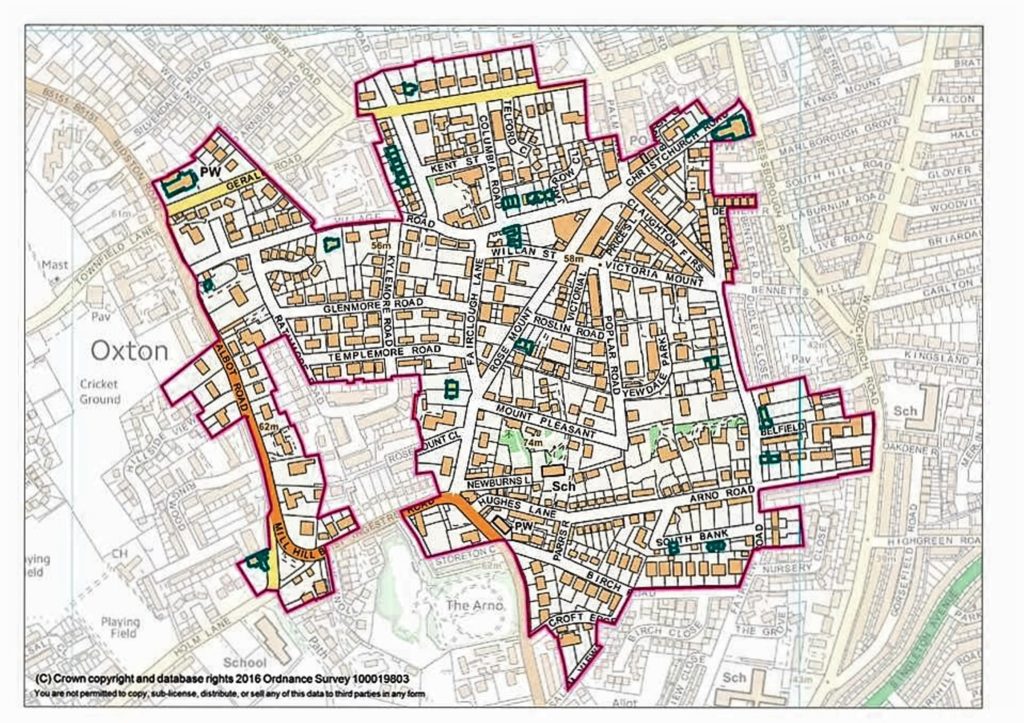 One of the Society's principal objectives is to make every effort to "preserve and enhance  the character or appearance of the Conservation Area. This is mainly approached via engaging with the statutory planning process. Follow the links below for more  information on planning:
Planning framework for the Oxton Conservation Area
Planning Applications
The society is invited to comment on all planning applications within, or affecting, the conservation area. To view planning applications go to the Wirral Council website.
View the Society's comments on the most recent planning applications.
Planning Advice Notes
Advice Note 1: How to look after your Windows 
Advice Note 2: Gates, Fences and Walls. 
Advice Note 3: Tree Purchase and Planting (see Trees section of website for more information)
Advice Note 4: Satellite Dishes
Advice Note 5: Front Garden Parking
Essential Planning Documents
Conservation Area Appraisal. January 2010
Oxton Conservation Area Management Plan. January 2010
The Council's planning policies on "Heritage and Conservation" are set out in the Unitary Development Plan and the specific policies for Oxton are in Policy CH7 "Oxton Village Conservation Area Policy".
The National Planning Policy Framework is a key part of Government reforms to make the planning system less complex and more accessible, to protect the environment and to promote sustainable growth.
Do I need Planning Permission?
For a user-friendly guide to whether you need planning permission (including special rules in Conservation Areas) then visit the Government's Planning Portal