Purpose
A primary objective of the Oxton Society is to ensure that the special character of the Conservation Area is maintained and enhanced.  The purpose of our Design Award scheme is to encourage and celebrate projects which contribute to this.
Eligibility
Awards are made at the Society's AGM.  To be eligible nominate projects must be located within the Conservation Area and have been completed within the two years prior to the AGM.  A wide range and scale of projects, both residential and commercial, are eligible for consideration including:
A new building
An addition to an existing building
A renovation, upgrade or repair of an existing building
The renovation, repair or improvement of outside features within the curtilage of the property, such as boundary walls, hard and soft landscaping, including tree planting.
Award Criteria
In assessing projects for an award the Society will have regard to the following criteria:
Making a positive contribution to the character of the Conservation Area
The quality of the design and its sensitivity to the context in which the project is located
The skilful use of appropriate materials
Creating a visible example of good practice which can inspire future projects of its type
Compliance with the approved planning framework for the Conservation Area
Assessment of projects
Projects will be assessed by the Society's Executive Committee against the criteria above, taking into account advice from a panel of independent experts.  The Committee's decision will be final.
Award Presentation
Providing that eligible projects of sufficient merit have been submitted, awards will be presented annually at the AGM.  More than one award may be made if multiple projects of sufficient merit have been submitted.  The most outstanding projects(s) will win the Society's Design Award and be presented with a plaque.  Other projects of merit may be awarded a Certificate of Commendation.
How to nominate projects
In addition to the website, the Society will publicise and seek nominations for the Award widely in the Newsletter, on social media and on our notice board in the village. Nominations can be made by members of the Society at any time during the year. You should send nominations to the Society by email or post (see "Contact Us"). Ideally nominations should be accompanied by a few photos showing "before" and "after" if appropriate, and a summary of the work undertaken.  
CLOSING DATE FOR 2019 AWARD – 31 AUGUST 2019
Previous Design Awards
2018
Certificates of Commendation were awarded to: 
SHOPFRONT UPGRADE, Greens of Oxton, 2 Rosemount
GREENS occupies a prominent position in the centre of Oxton. This re ordering of the shopfront with a restrained choice of colour and bold awnings makes a positive contribution to the character at the heart of the village.
SANDSTONE WALL REBUILD, 53 Rosemount
Sandstone walls are one of the features that define and characterise Oxton, and when they are poorly repaired and repointed, they contribute to a gradual deterioration of this character. Here is an example of a wall that has been rebuilt to a good standard.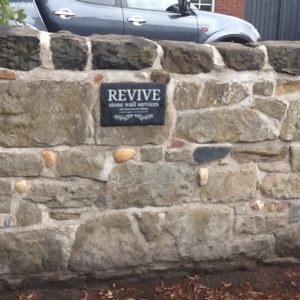 HOUSE FRONTAGE IMPROVEMENT and REDECORATION, 16 Claughton Firs
This is an elegant house front that has been quietly improved with a redecoration that uses a soft grey colour with white, and a careful choice of fittings. This is a very visible example of a house frontage contributing positively to the village character.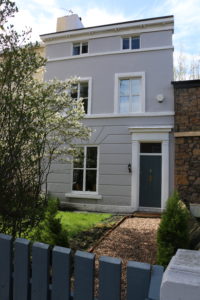 The Oxton Society Design award for 2018 was awarded to:
SHOPFRONT ALTERATIONS, 1A Claughton Firs, formerly, 'Chutney' 
This previously gave the appearance of two separate and randomly organised shopfronts. The alterations have very carefully combined these two into one ordered frontage that responds to the true character of the surroundings, and the dark stained wood has been well replaced with a cheerful blue. The result is a very positive addition to the shop frontages of Oxton.
2017
Neil and Rhona Walklet, 17 Glenmore Rd. Repair and restoration of 1930's semi.
This comprehensive renovation makes a significant contribution to the conservation area by restoring the property to its original standard using appropriate materials, including:
House
Removal of interlocking concrete tiled roof and replaced with new roof using traditional "Rosemary" tiles plus appropriate embellishments, e.g. matching finials
Removal of aluminium double glazed windows and replaced with timber sliding sash windows matching original design.
Repair and restoration of front elevation timber surrounds, rotten timber sills remade, front bay window and french doors overhauled.
Re-rendering to original pattern
Restoration of "seashell" canopy over front door
Garage & Driveway
Removal of asbestos garage roof, constructed a timber frame structure to house a traditional "Rosemary" tiled roof to match house.
Raised garage roof and altered pitch (due to previous disproportionate building) to match front gable to main house using matching engineering brick
Removal of poorly laid tarmac driveway/waste ground and replaced with reclaimed yorkstone flags rain water gulleys, yorkstone steps, edge in silver granite setts and reclaimed blue granite cobbled pathway to front door
Built dry sandstone walled flower beds
In addition to the York stone drive which echos the pavings in the older parts of the conservation area they have also planted two Birch trees and a Ginkgo  funded by the Oxton Society Tree Planting Fund, which help set off the house, planted a  beech hedge and re-laid lawns to the front and side of the house.
The project is an example of what can be done to restore a character house in this part of the Conservation Area and should provide a model for others to follow.
Grassguards, 13 Mount Pleasant. (2015)
Heather and David Alcock. Renovation and repair of their fine 1900 house, including:
Complete re-roofing using salvaged slates and ridge tiles (to match original), copper clouts and lead flashing
Repointing of three tall chimney stacks, using lime mortar tinted to match the existing
Renewal of existing and replacement of severely deteriorated cast iron gutters to match the original in all aspects (material, profile)
Complete reconstruction (replacing severely deteriorated) of six large dormers and all dormer windows, using timber (sapelli (a hardwood))
Replacement of severely deteriorated arch top window
Restoration of existing wood frame sash windows
Restoration of the woodwork at the orangery
Redecoration to match the original paint scheme, identified for the ground floor and first floor windows
Removal of an inappropriate satellite dish, removal of a redundant aerial and installation of one satellite dish in a 'hidden' location (behind the ridge line of the roof, invisible from the public right of way).
This project shows what can be done to if we are to protect the slow degradation of Oxton's fine buildings which although not listed are identified in the Conservation Area Character Appraisal as making a positive contribution to the area. None of the works done (except re-location of satellite dishes) is actually required by conservation rules as they stand – but they show how to protect and restore the original fabric of the building.
2015
2 Roslin Rd, 
Richard and Sarah Azurdia –  Rebuilding an original sandstone boundary wall demolished by a falling tree.
" The wall came down in the big storm on the 12th February 2014 followed by uprooting of the eucalyptus tree adjacent to the wall – tree that had been there for years. Tony King, a local tree feller, agreed to help us on the night and did a fantastic job chopping up the tree and making the road safe – many locals benefited from the wood for their wood burners. Steve Walling (stone mason) and his team were appointed to rebuild the wall back to its former glory sorcing replacement matching stone from Wigan and cutting and finishing by hand over 50 replacement sandstone blocks."
Judges comments
Oxton's sandstone walls are the defining feature of the area. This particular example is especially valuable with its dressed stone look. It presented a special challenge to restore it to its original form and the contractor, Steve Walling, has achieved an excellent result both in terms of matching the stone and shaping the blocks to fit the original design.