Oxton's distinctive treescape
Trees are a distinctive feature of the Conservation Area and the Oxton Society has a concern for their preservation and improvement. Trees were specifically mentioned by Wirral Borough Council when it established the Conservation Area in 1979. You can obtain a quick view of the prominence of tree cover in the Conservation Area, compared with adjacent areas, by searching Google Maps' satellite images using the postcode CH43 5SS (in the rough centre of the Conservation Area) 
Tree cover distinguishes the Conservation Area from much of its surroundings to the south, east and west. This is not accidental. It is due to planning, the control of casual felling/mismanagement and the care and attention given to trees by their owners.
Tree Planting Fund – now replaced with advice and support
The Society promotes the protection and sensitive management of this treescape, while encouraging  the planting of new trees of appropriate species to provide continuity for future generations to enjoy. We have decided to end the Tree Planting Fund which paid members for a limited number of new trees annually.  In future, the Society will generally as a rule, not fund the purchase of trees for members, but would adopt a discretionary funding approach and look at each proposal on its own merits. We will try to help residents by offering expert advice on appropriate trees and how to source and plant them in partnership with the Port Sunlight Trust.
Regulations for tree protection
Nationally prescribed regulations for all conservation areas obviously apply to The Oxton Conservation Area!  The regulations stipulate that all trees with a trunk diameter of 7.5cm in diameter (about 3 inches) or more, at chest height, are protected and this protection extends to the roots as well. Being protected does not mean that no tree work can be undertaken but it does mean that Wirral Borough Council must be informed before any cutting takes place on a tree or its roots.
The rules differ slightly depending on whether or not a tree is subject to a Tree Preservation Order (TPO):
(a) If a tree is subject to TPO then no work can be undertaken until Wirral Council has its given explicit approval.
(b) For all other trees in the Conservation Area Wirral Council must be informed, at least 6 weeks before work is commenced, of what work is intended on the tree or its roots. The Council will give its decision and comments within the 6 week period.  If no decision is given within that period the intended work can proceed
For both (a) and (b) the same official form is used to notify Wirral Council of your intentions: you can print a copy and submit by post. Alternatively you can apply online – follow the links to submitting a planning application and choose "tree work in a conservation area" as your application type. There is no charge for submitting an application. A reputable and qualified consultant or contractor will know the process and submit the paperwork on your behalf.
Are you affected by a Tree Preservation Order?
There is a map of TPOs on the Council's website.
How is the Oxton Society involved?
The decision as to whether proposed work on trees is acceptable is taken by Wirral Borough Council, not by the Society. However, as the Society is an Advisory Body to the Council, we are asked for our opinion on the proposed work. Any comments we make do not have to be endorsed by the Council. Our comments on tree applications can be viewed on the website.
Who should do work on trees?
After Wirral Council has made a decision the owner has to decide who is to do the work. Trees can be ruined and their health and structural stability undermined by unqualified work. We know of a large number of sad instances where someone has called unannounced to claim that "your tree needs pruning", and offering to do it immediately.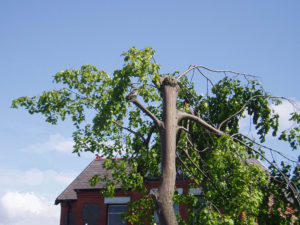 Butchered by cowboys
The results have invariably been hugely expensive (often far more than charged by a qualified person) and destructive. "Butchery" is a typical description of the work they do and they are invariably uninsured so when a limb falls through your roof, blocks a road or damages a neighbour's car you will have to pay for the consequences. They will certainly be unaware of the British Standard setting out the correct way of undertaking work in a way which is safe and which protects the health and well being of the tree.                                                             
In any event all work on trees in the Conservation Area must have the agreement of Wirral Council before it is commenced.  A reputable and qualified consultant or contractor can do the application process for you.
There is a golden rule: never, under any circumstances, accept a cold call or respond to unsolicited literature offering to do work on trees. Professionals do not tout for business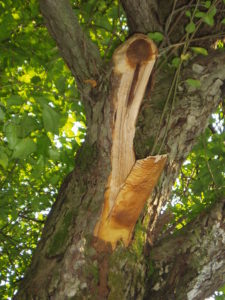 Damage caused by amateur pruning  
It is not only the cowboy who can damage trees. The well intentioned amateur's attempt to so something apparently simple can permanently damage a tree leaving it deformed and ugly. Tree pruning is not carpentry! Knowledge is required for both selecting the appropriate branches to cut and then skill is needed to cut living wood.  Furthermore, different trees require different approaches and the season and age of the tree is relevant too. To get a preliminary overview of the requirements consult the Royal Horticultural Society website. 
How to find a qualified professional? 
Wirral Borough Council no longer recommends specific contractors. Although the Society does not give recommendations, its Tree Group knows of contractors who have undertaken work to a high standard in the Conservation Area. Contact the Society on info@oxtonsociety.org.uk for further information.
It is most important that all work be done by qualified contractors and consultants. The Royal Horticultural Society has produced a useful guide Points to consider before hiring a contractor with a checklist to guide you through the process of finding a qualified tree work professional.