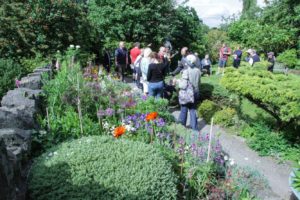 We need your help to make Secret Gardens a success, raising funds for the Birkenhead Youth Club, The Terral Morgan Memorial Fund, Wirral Women and Children's Aid and of course The Oxton Society.
Volunteers
Could you give a couple of hours to help with  a wide variety of tasks on the day?
Plants, Pots, Tools and Gardening Books
Our Plant Stall is usually one of our biggest fund-raiser. Its run by the Friends of the Arno and all proceeds go to the Friends. We need contributions of garden plants, gardening tools in good condition, and books about gardening. So please consider potting-up some plants this spring so they are well established and a good size to sell on the day. Also any spare plant pots would be useful.
Raffle Prizes
The Grand Charity Pick-a-Prize Raffle can help you "recycle" any unwanted Xmas Gifts or other surplus items in good condition.
More information will be posted here shortly and in the April newsletter – in the meantime any queries to Lesley McGarrity, alsr.mcgarrity@tiscali.co.uk
Arts and Crafts Pitches at Secret Gardens 
We want to increase the number of arts and crafts stalls at this award winning, popular community event.  The pitches are located in Mount Pleasant by The Hub (refreshments, raffle and music).  The focus of the event is over 20 private gardens open to paying visitors, and there will be a wide range of entertainment and events for all ages.
The event already has three partner charities that share in the profits so pitches will not be available to other charities. 
Refreshments will be provided by The Oxton Society, village cafes, restaurants, pubs and bars, churches and scouts, so we need no more food outlets.
If you are interested in applying for a pitch, please contact Lynda Roberts, lrobertslynda@gmail.com for information on the event, the pitches, and how to apply. The pitches are sold on a first come basis.