The designation of Oxton Village as a Conservation Area in April 1979 marked a significant step in the planning of the area. The planning legislation defines Conservation Areas as "areas of special architectural or historic interest the character or appearance of which it is desirable to preserve or enhance".The designation placed a duty on Wirral Council to have regard to these criteria in carrying out all its functions.
In 2010 the features which define Oxton's special character were assessed in detail and brought together in the Oxton Conservation Area Appraisal. This important document was prepared for the Council by specialist consultants supported by the Oxton Society.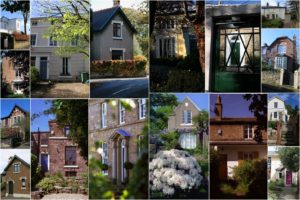 Of particular importance is the Council's responsibility to formulate and enforce planning policies including specific policies for Conservation Areas in general and Oxton in particular. The Society has produced a document describing these policies in some detail which can be viewed here.
These policies are fundamental to the decisions the Council makes on planning applications in the Conservation Area and will, therefore, be of interest to anyone – residents, businesses, developers – planning to make improvements to their property or start a new development. The Society has produced a note on making a planning application in the Conservation Area and the decision-making process which can be viewed here.
Because the Oxton Society is recognised by the Council as the Advisory Committee for the Oxton Conservation Area we are consulted on all planning applications in the Conservation Area. The Society expresses an opinion – the Council makes the decision. A note expanding on the role of the Oxton Society and our code or practice in carrying it out can be viewed here.