Discover Wirral's Conservation Areas and Heritage Sites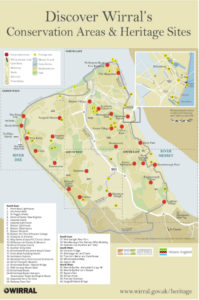 Conservation Areas Wirral (CAW) has worked with Wirral Council's Rights of Way Officer, Robin Tutchings, Eileen Willshaw (Heritage Officer) and Jess Malpas (Conservation Officer),to devise a trail which will allow you to visit each of the 26 Conservation Areas on the Wirral and learn more about the historic buildings along the way. The Trail can be walked, cycled or even driven, as information is provided at every stage. The Wirral has been divided into four quadrants and the information can be downloaded onto a smartphone or even printed out to guide those who would like to follow the route and learn more about Wirral's history and heritage.
To check out the Conservation Area Trail click here.
Conservation Areas Wirral (CAW)
Conservation Areas Wirral is a forum of all Wirral's 26 Conservation Areas. Established in 2014 it is a voluntary-run organisation with members drawn from all of Wirral's active Conservation Areas. It works with Wirral Residents, Wirral Council and Historic England to promote and protect the distinct character of Wirral's Conservation Areas and to ensure they can be accessed and enjoyed by all, both now and in the future. More details here.